VARIEGATED AND OLD ENGLISH HOLLY for Your Christmas/Holiday Season
When the time of year rolls around to the winter holiday season, our minds turn to decorating the house or sharing the joy of the season with friends and family.
What better way to set the mood or enjoy the season than with traditional English Holly?
Freshly cut English Holly with Bright Red Berries will enliven your holiday table or tell the ones you send a gift box to that you are thinking of them.
Bulk holly can be purchased by the pound for local pickup: Old English - $3.25; Variegated - $3.75. Sales tax applies, but shipping and handling is eliminated. Call us at 360-866-7708 to arrange for pickup.

2 lbs Mixed Holly
HM2 - $11.05
English and Variegated
w/ red berry sprays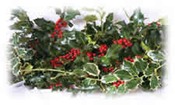 3 lbs Mixed Holly
HM3 - $13.80
English and Variegated Holly
w/ red berry sprays


3 lbs Variegated Holly
w/ Berry Sprays
HV3 - $15.80


This is what three pounds of holly looks like in an arrangement!